Have you ever been shopping in a grocery store, turned down an aisle for a product, and just become overwhelmed by how many options there are? This is a very typical experience. A product gets put on a shelf right next to nearly identical products from different brands. The mere frustration of looking through all those brands is enough to make any consumer grab the first brand they see and leave with it.
So, the question is: how do you optimize your in-store merchandising to ensure that customers see your brand, consider your brand, and then ultimately purchase your brand? The key is to have great visual content, offer an easy shopping experience for the customer, and to use interactivity in the displays.

Organization = Easy Shopping Experience
An important part of merchandising is picturing how your product will look on a shelf. Organization is vital when you're trying to offer an easy shopping experience for the consumer. If executed well, it simplifies the shopping experience and allows you to apply cross-merchandising techniques to maximize sales.
The Wooster Brush Company is an industry leader in a wide array of paint applicator products. Array recently helped Wooster Brush Company with their packaging and branding. Wanting the packaging to stand out on shelves, Array focused on playing up the prominence of the Wooster brand color, red. The packaging also focused on clear iconography to help explain brush and roller attributes. This allows consumers to easily identify the tools they need and aligns all tools of the same type in one spot for a simple purchasing experience.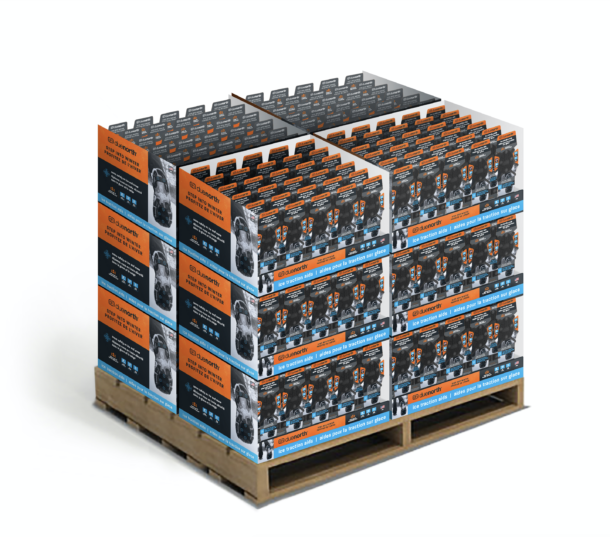 Merchandising that POPS
Most of the merchandising used in-stores is point of purchase merchandising, otherwise known as POP merchandising. This includes the aisle violators, the end caps at the end of aisles, the stand alone brand specific displays, and many more creative options. One such option is a display called a PDQ. A PDQ is a display-ready case that requires little to no assembly. Often in the form of cardboard trays, bins or racks, PDQs are, "generally used in check out areas of retail spaces as point-of-sale devices," according to CreativeDisplaysNow. Displays such as these effectively break up the monotonous aisles of product and catch consumer interest.
Due North is a leader in ice and snow traction aids, specializing in products that maximize safety when working or playing in inclement weather. Due North recently came to Array for help designing a PDQ for Costco. The packaging features bright blue and orange to catch the attention of consumers while the information on the box gets directly to the point of the product, informing customers quickly and efficiently so they can make an informed purchasing decision. PDQs such as these are important when distinguishing a brand's product from others. The graphics and creativity provide you the chance to give your product a voice and personality that consumers will remember and associate with your brand.
In-Store Product Interactivity
One way to spice up your in-store product displays is to incorporate a digital interactive display. Interactivity with a product affords consumers a sense of personalization. Salesforce notes, "88% of retailers say personalization has improved their marketing effectiveness". The tricky part is finding a cohesive way to include these displays without betraying the brand.
Canadian Tire produces a collection of consumer products ranging from automotive to housewares. Canadian Tire came to Array for help with their line of premium windshield wiper blades, Reflex. Array formulated a plan for how Canadian Tire could achieve interactivity in Reflex displays while remaining true to the brand and its functions. First, Array sketched a planogram, a visual representation of product shelving, including the new packaging developed for the Reflex brand wiper blade program. Then, Array developed an idea for an interactive display to include in their aisles. This display would allow consumers to look up which wiper blades they needed and offer aid to consumers who needed installation help. Salesforce found that, "when shoppers follow AI-powered product recommendations, their average order value increases by 14%".
Product merchandising in-store is vital to the sale of a product. Array possesses a proven expertise in merchandising. We consistently develop merchandising strategies for brands with outstanding results. Contact us about merchandising for your products!
Sources: CreativeDisplaysNow, Salesforce (Source 1), Salesforce (Source 2)